Location and Accessibility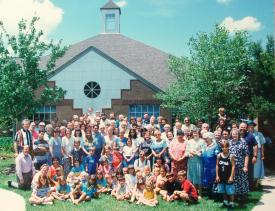 BAUUC is located at 17503 El Camino Real in the Clear Lake area of southeastern Houston, about 3 miles east of IH45 (the Gulf Freeway).  You'll find us under the big blue water tower just south of Bay Area Blvd. and north of NASA Road 1. (The street sign for the entrance road leading to the church off El Camino Real reads "Beacon Street")
Office Hours
The congregation's office is open from 9:00 am to 1:00 pm Monday through Friday.  Contact our office at [email protected] or by calling 281-488-2001.
Parking
Parking is available in our parking lot, directly across from the church. The small parking lot at the rear of the church building and beside the Religious Education wing has been designated a "reserved lot" and is for the use of those who have a need to park close to the building entrance. Handicapped spots are located here. Overflow parking on Sunday mornings is available in the grass along the north side of the entrance road and in the Clear Lake Islamic Center parking lot, located past the church and at the end of our private drive.
Accessibility
Our sanctuary, fellowship hall and the restrooms in our Religious Education wing are wheelchair accessible. Reserved parking spaces for those with handicap permits are located in the small lot in the rear of the building. Hearing Assistant Devices and Large Print Orders of Worship are available for services on Sunday mornings.
Directions
Our Google Maps link offers you door-to-door directions for driving, walking, biking, or public transit.