Learning Overview
The over-arching goal of Unitarian Universalist Religious Education is to provide children, youth and adults space, time and resources to:
explore, reflect, and learn in a safe, nurturing, spiritual community,
discover their own spiritual path, and
discover their own ethical compass.
In order to help them on this quest, we provide learning opportunities based on the wisdom of many faith traditions and a community where discussion and questioning are not only allowed, but actively encouraged.
What We Offer Through the Lifespan
The goals of Unitarian Universalist religious education programs are to:
nurture Unitarian Universalist identity,
encourage spiritual growth,
transform lives and the world, and
develop vital communities of justice and love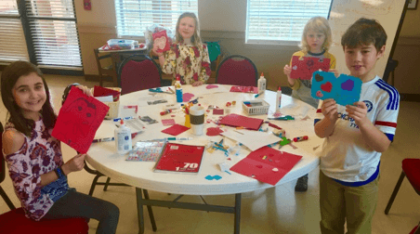 Religious education programs are wide-ranging. On a Sunday morning you might find the toddlers hearing a story about friendship, the preschoolers  choosing how they respond to a story on respect, the joint classes making Valentines to sellto raise money in support of a girls' school in Nepal, the 5th graders developing a toolbox of Unitarian Universalist 'tools' such as kindness or flexibility, the 8th graders learning about personal responsibility in a lesson from our progressive sexuality education program Our Whole Lives, the high school youth engaged in a series of discussions on the Unitarian Universalist Sources of Inspiration, and the Adult Discussion Group involved in a 3-week study of income inequality.  The programs incorporate worship opportunities, social justice activities, fellowship, and fun.  Each group has opportunities through-out the year to write and lead parts of the adult worship services.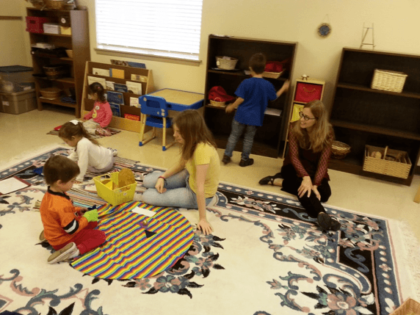 Our religious educator and minister lead many of the congregations' lifespan programs on Wednesday nights. Other members of the congregation often lead them, too. BAUUC's volunteer religious education ministry teaching staff finds leading a group to be a fulfilling way to deepen one's own faith.
Religious education programs for children and youth are typically offered on Sunday mornings; adult programs are usually offered other times during the week.
We invite you to explore these pages and contact our religious educator at [email protected] to get connected.
FAQ
What should my children wear?  We generally dress very casually.  Most children wear T-shirts and jeans or shorts.  Others prefer to "dress up."
Where do children & youth go first? The Middle and High School Youth begin with their groups at 11:00.  The younger children begin in the sanctuary with their parents.  Following a story and the song "Touch the Earth, Reach the Sky," the children follow the "Keeper of the Flame" out of the sanctuary to their religious education activities.
Is there a fee for Religious Education? No, the programs for children, youth, and adults are funded from the church budget.  We strongly urge all families and adult participants to pledge yearly in support of Bay Area UU and all of its programs.
What time is RE (Religious Education) over?  The 9:30 and 11:00am am RE sessions end one hour after the worship service begins.
Do I need to register my children/youth? We ask all families to register their child(ren).  After completing the form, families are asked yearly to reconfirm their registration.  The registration form is available in hard copy at the Greeters' Table outside the sanctuary or online at by clicking this link:  Registration Form