Our Minister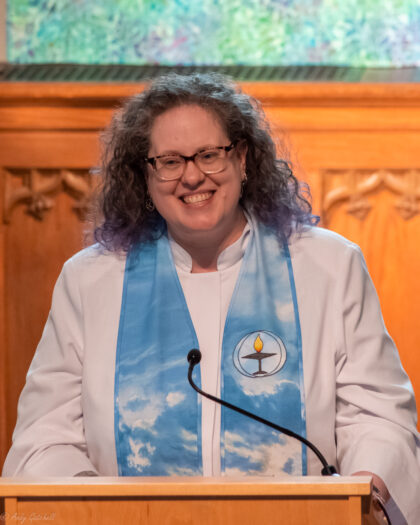 Reverend Katie McQuage-Loukas
Rev. Katie is the newly called and settled minister of Bay Area Unitarian Universalist Church. She received her Master of Divinity from Boston University in 2021, and she stayed one more year to complete a Master of Sacred Theology, focusing on religious leadership. She entered preliminary fellowship with the Unitarian Universalist Association in 2022 and was recently ordained by the UU Church of Reading, Massachusetts, where she had been a ministerial intern.
Though she comes to us from New England, she is originally from Galveston, Texas. She worked as a paralegal first in family law, and then in health and disability insurance advocacy, before discovering that she really wanted to be a full-time church person.
Rev. Katie lives with her partner Kris. They enjoy witnessing art in human embodied motion, primarily through NBA basketball and ballet. They also enjoy watching the ducks in their apartment's pond.