Plan a Visit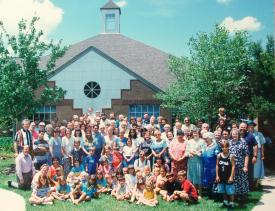 Bay Area Unitarian Universalist Church is an inclusive religious community which welcomes and celebrates people of all cultures, races, genders, sexual orientations, economic backgrounds and physical abilities.
Our friendly greeters will welcome you at the front door and are happy to answer any questions you may have. Families gather together in our sanctuary for the first part of the worship service. Following the Story for All Ages, our children go to attend Religious Education activities during the remainder of the service. Child care is available in our nursery for infants and toddlers during the worship service.
Directions
BAUUC is located at 17503 El Camino Real in the Clear Lake area of southeastern Houston, about 3 miles east of IH45 (the Gulf Freeway).  You'll find us under the big blue water tower just south of Bay Area Blvd. and north of NASA Road 1. (The street sign for the entrance road leading to the church off El Camino Real reads "Beacon Street")
Parking
Parking is available in our parking lot, directly across from the church. The small parking lot at the rear of the church building and beside the Religious Education wing has been designated a "reserved lot" and is for the use of those who have a need to park close to the building entrance. Handicapped spots are located here. Overflow parking on Sunday mornings is available in the grass along the north side of the entrance road and in the Clear Lake Islamic Center parking lot, located past the church and at the end of our private drive.
Accessibility
Our sanctuary, fellowship hall and the restrooms in our Religious Education wing are wheelchair accessible. Reserved parking spaces for those with handicap permits are located in the small lot in the rear of the building. Hearing Assistance Devices and Large Print Orders of Worship are available for services on Sunday mornings.
When is Sunday School?
The Middle and High School Youth meet with their groups at 11:00am on Sunday mornings.  The younger children begin in the sanctuary with their parents at both the 9:30am and 11:00am services.  Following a story and the song "Touch the Earth, Reach the Sky," the children follow the "Keeper of the Flame" out of the sanctuary to their religious education activities.  Both the 9:30am and 11:00am religious education sessions end one hour after the worship service begins.  Please note: During July and early August, children's religious education will Begin at 10:30 and end at approximately 11:30.
How do I register my children?
We ask all BAUUC families to register their child(ren) and then reconfirm it each year.  The registration form is available in hard copy at the Greeters' Table outside the sanctuary or online at this link:  
Registration Form
You can relax knowing that our Religious Education team knows who you are and how to locate you should your child need additional parent help.
How should I dress?
Please come as you are; people wear suits, blue jeans, and everything in between to worship.
How can I meet more people on Sunday?
Between our worship services, the congregation gathers for coffee, snacks, and fellowship in Cockrell Hall in our religious education wing from 10:30am to 11:00am This is a great time to meet new people and enjoy lively conversation.
Adult discussion groups meet during both the 9:30am and 11:00am worship services and can be great ways to get to know people in a more relaxed and small scale setting.
There's always a group going out to a nearby restaurant after the 11:00am service. See the Sunday Order of Worship for locations.
One Sunday each month we have a special All-Church Lunch in Cockrell Hall following the 11:00am worship service.
What services happen on Wednesdays?
Community Dinner is served at 6:00pm on Wednesday nights in Cockrell Hall (cost is $7 for adults, $2 for children, and free for newcomers and those with limited financial resources). Vegetarian options are available.
Dinner is followed by a meditative Vespers Service in the sanctuary beginning at 6:40pm.
At 7:00pm, we have a variety of activities including choir rehearsal, speakers and adult discussion classes as well as other educational programs. Please consult the Church Calendar for this week's happenings.