Solar Panel Project History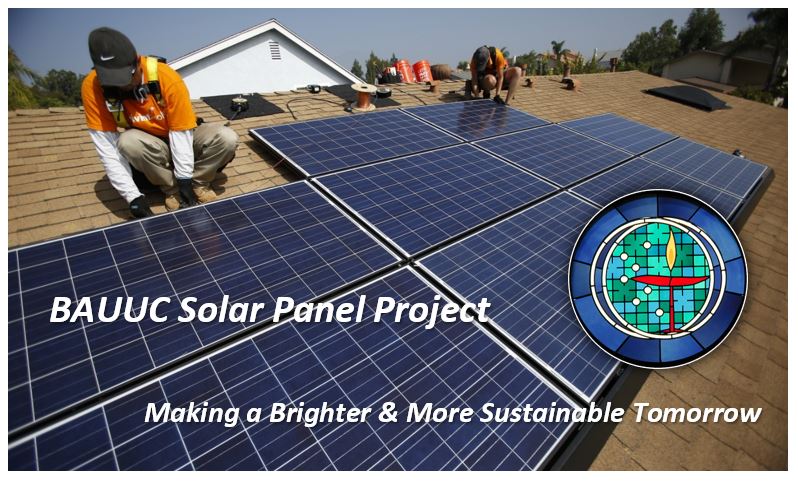 The BAUUC Board of Directors approved a project to install solar panels on our roof, making steps towards our mission to "change lives and heal our world."  Watch this video about the project which was completed in the spring of 2021.
With the near unanimous passage of the Response to the Global Climate Emergency Resolution by our congregation in March 2020, Bay Area Unitarian Universalist Church (BAUUC) committed to "make every effort possible to respond to this Climate Emergency." Since then the Climate Crisis Task Force has been examining practical options to reduce our contribution to the unprecedented global release of greenhouse gases to the atmosphere.
A plan was devised which would allow BAUUC to achieve net-zero carbon emission by approximately 2031. Because the church building is an all electric facility, the plan was very straight forward. The recommendation was to produce 70% of the needed electrical power by purchasing and installing solar panels on the roof. The remaining 30% of the needed electrical power will be eliminated by conservation measures. This can be accomplished over the next ten years by replacing failed and obsolete equipment with energy efficient equipment. This plan will allow BAUUC to prevent the release of 30 metric tonnes of carbon dioxide each year and every year into the future.
In addition to mitigating global warming, installing solar panels is an economic solution. In many cases, electrical power from solar panels is cheaper than the retail price of electrical power from utility companies. By spending funds now to install solar panels, the church will reduce its electrical bill and shield itself from future electrical rate increases. We are not alone with this effort. There are at least 150 UU congregations across the country that already obtain some or all of their electrical power from photovoltaic panels. Presently, there is no other church in Houston which utilizes solar panels. BAUUC is the first in Houston, setting an example for others and demonstrating our UU value of respect for the interdependent web of all existence of which we are a part.
The church used to spend $12,000 a year to pay for the electricity it consumes. We have purchased 115 panels at a cost of $100,000 to meet 70% of our consumption. We expect the panels to be activated in the summer of 2021.
Thank you for your time and generosity!  Together we CAN heal our world!