Howard Thurman wrote, "The years, the months, the days, and the hours have flown by my open window. Here and there an incident, a towering moment, a naked memory, an etched countenance, a whisper in the dark, a golden glow these and much more are the woven fabric of the time I have lived." As we begin 2018 together, it feels right to take a moment to pause and reflect. What is to come for us, as individuals and as a community, is built on the moments of wonderful success we've shared and also the times when we missed to mark and didn't live up to our expectations.
In the year that has been here at BAUUC, we've warmly welcomed new people and a new Student Minister to our church. We've worked hard to increase the scope and impact of our public witness and community outreach efforts. We've shared delicious meals, engaged in thoughtful discussions and been wowed by inspiring music. We've also come together to support one another in difficult times and moments of loss as we've said farewell to some beloved longtime church members. We've listened to the stories of others and shared our stories as well.
What is to come in 2018? There will without a doubt be more moments of enlightenment, sadness, joy, inspiration and reassurance. We'll build on the connections we have made and meet new people and begin new relationships as well. We'll make decisions, move forward, grow in spirit and generosity.
Life includes both happiness and heartbreak, trivialities and moments of deep meaning. The journey is not meant to be easy or smooth. The blessing we have is that we will do and be all this in community, surrounded by others who share our values and are there to support us. I am enthusiastic about all the New Year brings and can't wait to see how we continue our journey together in 2018.
Blessings!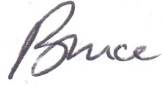 Rev. Beisner's is usually in the church office on Mondays, Tuesdays and Wednesdays. Thursdays are Bruce's sermon writing day and Fridays is his day off.  Bruce will be out of town from January 12-14 to perform a wedding in Ohio. Bruce can be reached at minister@bauuc.org