When I was called to ministry, it was pretty clear to me that I was called to serve a congregation (rather than being a chaplain, a minister for religious education or a community minister). Parish ministry requires offering leadership in many diverse areas of church life. My days here at BAUUC are exciting and there is always engaging work to be done. And I am honored to serve with our outstanding staff of talented professional and lay people who are committed to our ministries.
In my service to you, one of my priorities is always Sunday Worship. My experience in church life is that the Sunday morning experience is crucial. It is the one time in the week that we all gather together as a community. Each week I work with our Worship Associate to put together our services. Often, I offer them the freedom (and challenge) of expressing themselves in the liturgy by picking a reading or composing an introduction. Last week as part of our Words of Welcome, I asked one of our Worship Associates to get up and say why being part of BAUUC is important to them. Her script that day simply had a fill in the blank. As we prepared, she asked me, "How would you answer that question?"
My response was that I serve BAUUC because I truly believe that this church makes a difference in people's lives. Every day I see people who need hope and comfort and find it here. I witness people who are seeking inspiration and opportunities to express their doubts and explore new answers and watch them do that here. I hear from parents how thankful they are to have a place where they and their children can freely explore the values of love and respect. I see the way we come alive when we go out and publicly witness to our values in our community.  Here at BAUUC, I experience connection and compassion in ways I don't find it anywhere else. And that is important!
I believe Unitarian Universalism is a faith which affirms your freedom to find your own truths and to openly share them with others. It is also a tradition which calls us into sacred community, so that we may live out our commitments in this world and grow in spirit together. This balance between freedom and responsibility means that YOU are an essential part of our ministries and we would not be all we are without you. It also means that you and I have shared responsibilities to one another.
This month we begin our season of Stewardship, a time to celebrate our commitments to this great church. It is a season to reflect on our shared responsibility to support and take part in our ministries. Please join us for our big Stewardship Kick Off Dinner on Saturday February 17 here at the church. It will be a fun and exciting night of celebrating all the great ways we come together here to change lives and heal our world. That night you will receive your pledge card for the coming church year. I encourage you to use this as one opportunity to express your growing commitment to BAUUC and be generous in your financial giving. For it is our commitments that keep this church growing and ever becoming a more vibrant and meaningful home for all.
Blessings!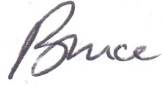 Rev. Beisner's is usually in the church office on Mondays, Tuesdays and Wednesdays. Thursdays are Bruce's sermon writing day and Friday is his day off.  Bruce can be reached at minister@bauuc.org.