"Then God said 'Let there be Light' and there was Light." The ancient authors of the Hebrew Scriptures chose that image to describe the greatest mystery of them all: creation. The writer of the Christian Gospel of Luke, in retelling the birth of God into human form, placed a great star in the heavens over Bethlehem marking the spot where Jesus lay in the manger. From the ancient bonfires of Yule in Pagan Germanic tribes to the candles lit to remember the miracle of the Maccabees on Hanukkah, throughout human history people have spoken of spiritual wisdom with references to light. We evoke such imagery each Sunday here at BAUUC as we light our chalice and kindle flames to honor our sorrows and joys.
For many years, the Motel 6 chain ran commercials featuring its founder, Tom Bodette, assuring his guests that "We'll Leave a Light on For You." It was their way of saying that amidst the darkness of a winter night, you can count on there being room in the inn and we're always here, to offer you shelter and comfort. "We'll leave a light on for you" reminds me of our church and the call to love and care for others that forms the foundation of our faith. Maybe it could be our slogan as well.
Jesus preached "You are the light of the world. No one after lighting a lamp puts it under the bushel basket, but on a lamp stand, and it gives light to all in the house. In the same way, let your light shine before others, so that they may see your good works."
This month we will be letting our light shine by offering some of our abundance to support others in need in our community through our Food Drive for Bay Area Turning Point, our collections for the Mitten Tree, our "Guest at Your Table" boxes, and our hospitality to families experiencing homelessness. This month we will be letting our light shine in the times we gather to sing, eat, pray and enjoy fellowship together. This month we will be letting our light shine as we grow in spirit by encountering stories from many faiths and as we renew our commitments to serve the greater good.
I invite you to consider this holiday season, in all its diversity, as a time to not just celebrate traditions and gift-giving, but as a time for seeking out the light in others, basking in its warmth on these cooler winter nights, and a time for re-kindling the light of love and compassion within yourself.
Blessings!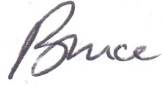 Rev. Beisner is usually in the church office on Mondays, Tuesdays and Thursdays. Wednesdays are Bruce's sermon writing day and Friday is his day off. Bruce will be out of town from December 25 to 30. Bruce can be reached at minister@bauuc.org.